List of Applicants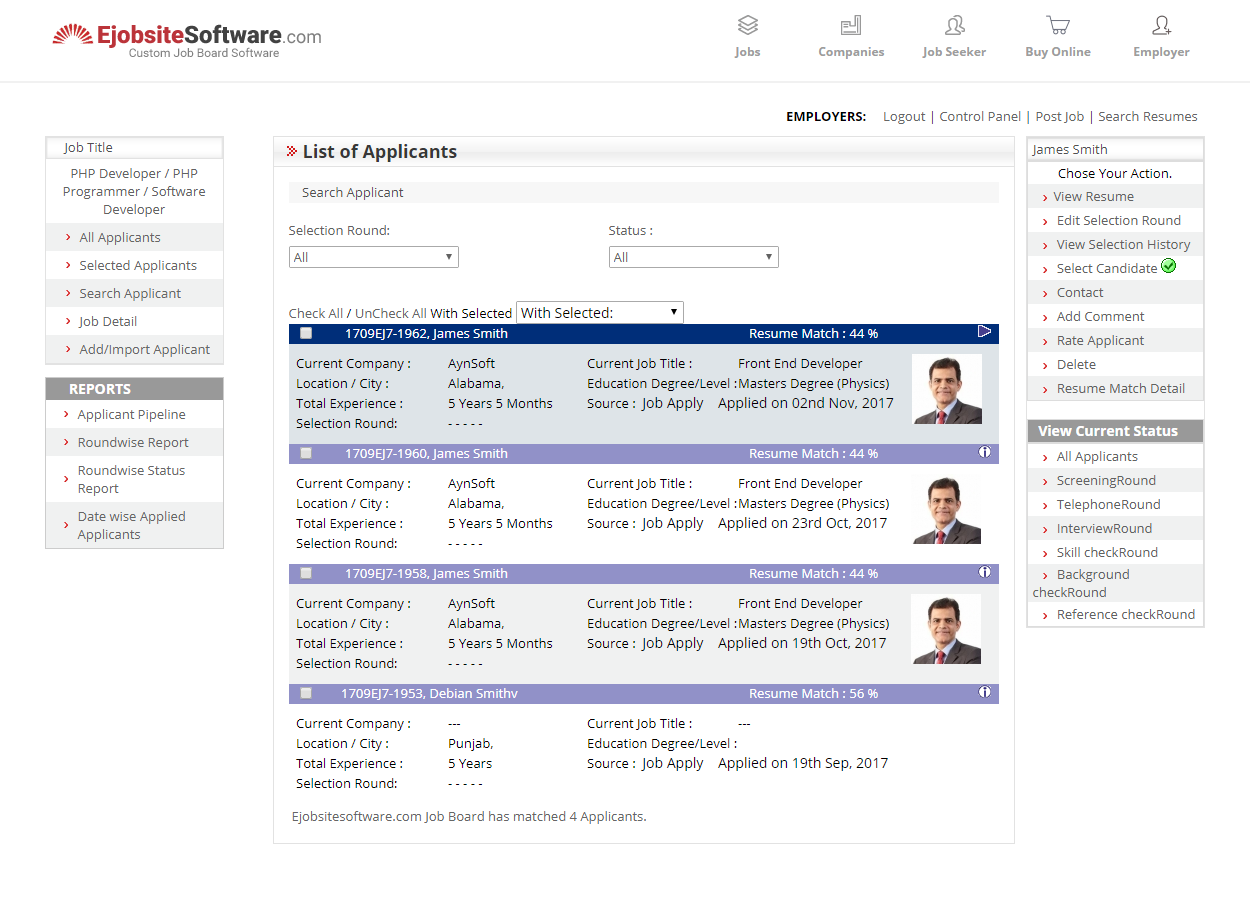 https://ejobsitesoftware.com/list-of-applications-2/
List of Applications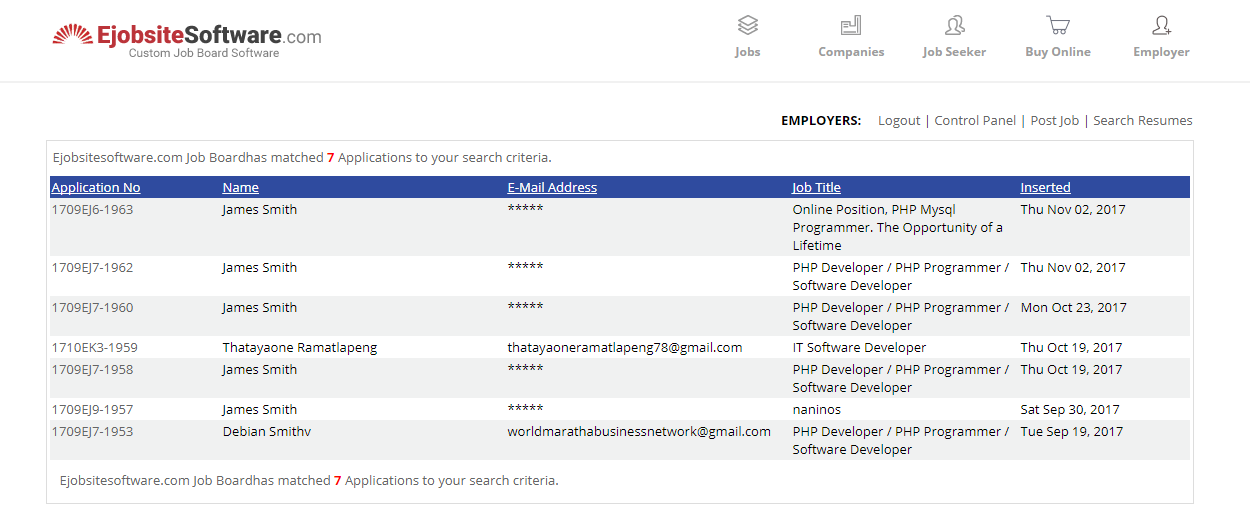 https://ejobsitesoftware.com/search-applicant/
https://ejobsitesoftware.com/applicant-tracking-software-2/
https://ejobsitesoftware.com/features-of-applicant-tracking-system/
Ejobsitesoftware.com Applicant tracking system gathers job requirements, automatically posts those requirements to the career site, qualifies job applicants, processes resumes, matches candidates with the requirements, shortlists candidates, and sends automated emails to selected candidates.
It also has a hiring manager portal along with the range of other features.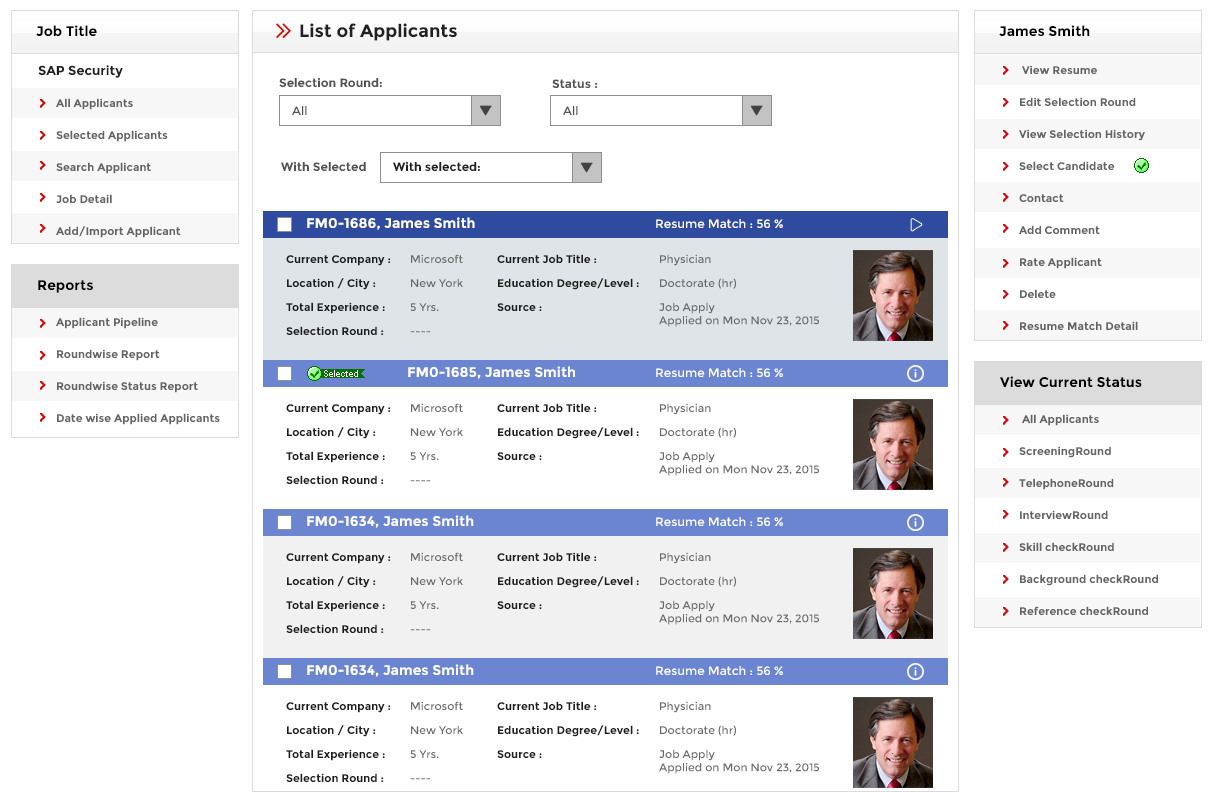 The applicant tracking system comes with a lot of user-friendly modules to enable recruiters and administrators execute their recruitment tasks more efficiently than ever before.
Some key modules of ejobsitesoftware.com applicant tracking system:
Requirement gathering:
HR departments, recruiting teams, project managers, or just anybody in the company can create a job opening request in the system. The system automatically assigns a recruiter for that job. Recruiters can post job through a simple form, wherein they can fill the details and criteria for candidate selection. The entire process is automated from here onwards.
Online job posting:
The application automatically posts the job requirements on your internal or external website, intranet, or portal in real-time. All the details of the available profile along with complete job description and company information are made visible for the candidates.
Job application:
Candidates who visit the website can apply for the job with a single click and then fill the form for the selected job opening. Hundreds and thousands of applicants can apply through this system. They can also refer the job openings to their friends. All applicants get automated acknowledgement emails as soon as they submit their application. The system is entirely secure.
Resume processing:
The system formats and stores resumes in MS Word, PDF, plain text, or database files. It gives immediate information on candidate application history, referrals and requests. Resumes from different sources are also collated at one place.
Resume screening and extraction:
Our applicant tracking system automatically matches the resumes with the job requirements and short-lists the candidates based on their qualifications, experience, location, and skills. The system takes care of even minute details to bring forth only the best-fit candidates for those positions.
Automated correspondence:
After short-listing, the application sends out emails to the selected candidates to take the communication to the next level. The formats of these letters can be managed by the recruiter or administrator.
Continuous candidate tracking:
The applicant tracking system tracks the candidate throughout the recruitment lifecycle. Starting from pre-screening, technical round, reference checks, job offer, offer acceptance, to joining.
Hiring portal:
This feature enables the hiring managers to visit their website, log on and manage the jobs they want and set criteria. They can manage each stage of the process mentioned above and monitor is continuously to assess different channels of recruitment.
There are many sub-features available under each of the major modules mentioned here. Through these modules the entire recruitment process gets streamlined and the recruiter reduces time-to-hire significantly.
Since, most of the cumbersome tasks are taken care of by the ejobsitesoftware.com applicant tracking system, recruiters can actually get the time they need to concentrate on organizing other offline recruitment activities, conducting interviews and hiring employees.
https://ejobsitesoftware.com/applicant-tracking-system-2/
Applicant tracking system is an online application that maintains the records of all applicants. Applicant tracking system automates the online job application and resume tracking process including collecting, reviewing and responding to resumes.
Growing number of employees has made the recruitment process extremely complicated. Big companies, especially in the IT and FMCG sectors hire hundreds of employees every month to meet the needs of their HR department. These companies have big recruitment teams, but still they cannot recruit efficiently. So there is a need for online applicant tracking system.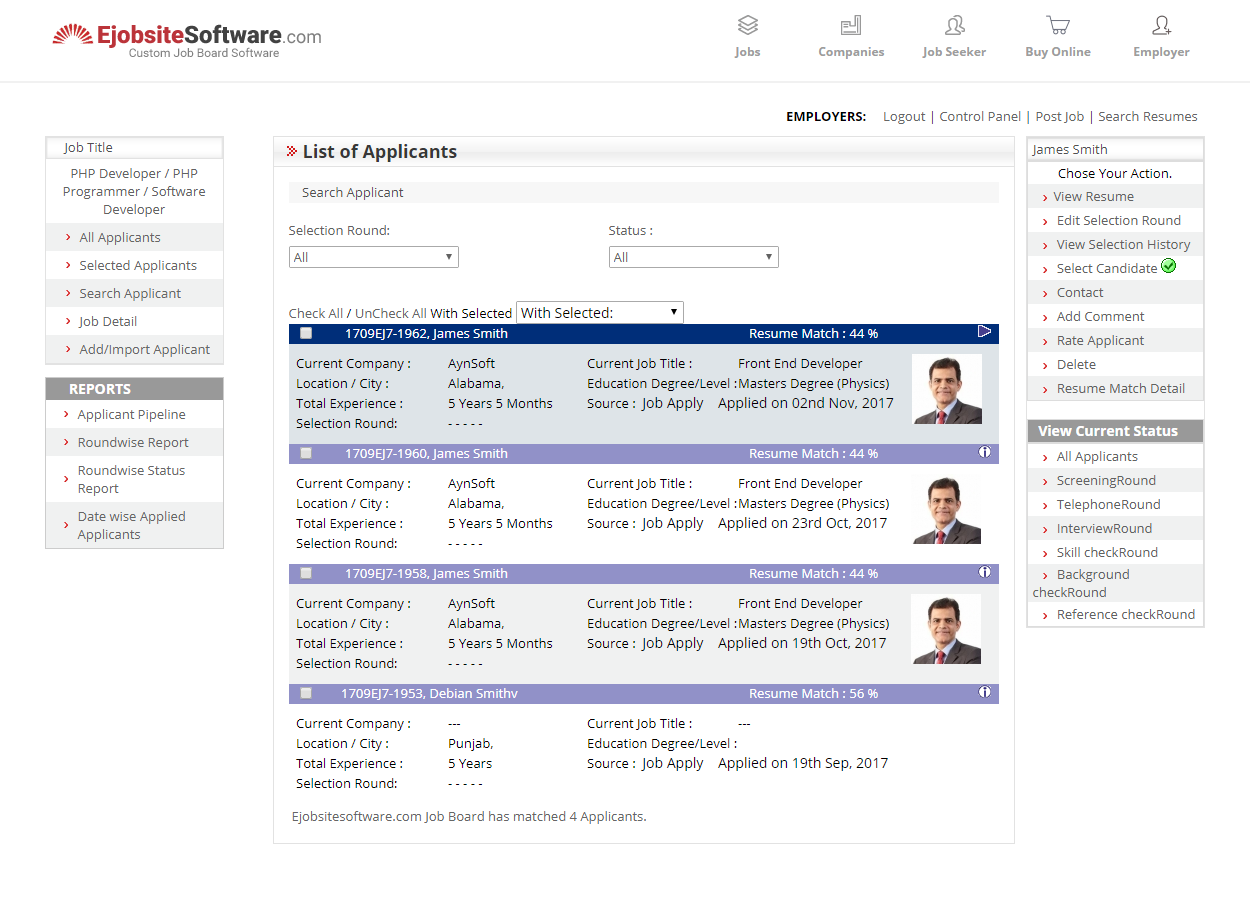 Benefits of Applicant Tracking System
Many companies spend over 50% of their time in sourcing and matching resumes on job portals and internal databases.
Applicant tracking system enables companies to create a database of candidates and the current job openings. The system automatically matches the openings and the candidates and gives the recruiter a list of short-listed applicants only.
It can also send automated emails to the selected candidates. This is a very beneficial step in the recruitment process as it cuts down the searching time drastically and frees-up time for the recruitment teams to do more important tasks like scheduling interviews.
With the help of an efficient applicant tracking system companies can:
Reduce hiring and administrative costs and make do with lesser recruiters
Find suitable candidates faster to meet your company's growing needs
Make your company's recruitment process more efficient
Lower hiring liability
Enhance applicant experience with your company
Ejobsitesoftware.com offers advanced technology that helps your company in tracking candidates throughout the recruitment cycle and eases the process of selecting the best-fit candidates.
Company can maintain a database of CVs in digital format, automatically pull out the right CVs based on the criteria mentioned by the recruiter, send automated mails to the selected candidates, manage interview times and schedules, track candidates, send automated communication emails, and enable easier and faster recruitment.
Job seekers can also take advantage of this advanced system. They can search jobs based on many criteria including location, qualification, categories, company, experience, and keywords.
Apart from the usual features the system also offers them a host of unique capabilities including: search results filtering; quick registration; easy profile creation and updation; list view of jobs applied for; capability to have private, public and confidential resumes and covering letters; features to view, edit, copy, delete, send, print, activate, deactivate and duplicate resumes; and more.
They can also submit resumes to any HR staff with just one click. Automated communication and interview notices from employer can be received too.
With ejobsitesoftware.com's powerful applicant tracking system employers, HR recruiters, consultants, and job-seekers can experience a streamlined and professional recruitment cycle. It automates all time-consuming tasks and significantly reduces recruitment process time and cost.
Sourcing and screening the right candidates will become a breeze with ejobsitesoftware.com's innovative applicant tracking system.
https://ejobsitesoftware.com/applicant-tracking-system/
Applicant Tracking System automates the online job application and resume tracking process It simplifies reviewing, responding to resumes and selecting the best applicant for the job
Using Applicant Tracking System, Employer can:

Track the applicant
Automate the selection process
Inform the Job Seeker about his Status
Generate Report about Applicants
Know the selection status of the particular Job Seeker
Check the applicant profile
Compare two Resumes
Check Resume Match vs Job
Rate the Job Seeker selection rounds
Do the Screening, Interview and Final selection

The entire Applicant Tracking Process is as follows:

Employer Control Panel
Login Employer control panel
Click the active jobs link in the employer control panel

List of Active Jobs

Check the menu buttons appearing in the right of the page
Click – View applications menu button, new page will open – List of applicants

View Applications
Complete details of applicant are displayed:

Applicant id
Candidate name
Applied
Round/Status
Rating
Action

In applicant tracking process, Jobseeker is given an auto-generated Applicant ID when they apply for Job Jobseekers are displayed as an applicant on the respective Employer Control panel under the List of Jobs section Employer can manage the applicant tracking system with Applicant ID

On this page Applicant Id is the auto generated ID and Round/Status are for the Status of Jobseeker Rounds taken for the selections process By default one circle is appearing on this page, which means that jobseeker is on the initial state and he hasn't gone through any selection process There is one more circle image (

) is appearing in the Round/Status section which shows that the applicant is new Now select the particular applicant by selecting the action image of the particular applicant

View Resume

Check the particular applicant profile by clicking – View Resume

Edit Selection Round
As per the applicant interaction with employer choose and edit:

Screening Round
Telephone Round
Interview Round
Skill check Round
Background check Round
Reference check Round

Select the applicant on clicking action button of the particular applicant Click on change status button Page appears as Applicant Status and update

Applicant Status:

Click Change Status button
Page appears as Applicant Status
Choose the Set Status and click the update button
There are five options in the drop down list , Named as

New

Process
Completed (Waiting)
Completed (Rejected)
Completed (Select)

After selecting process and clicking on update button, Page appears as Applicant Status which shows that:

Round is Screening
Pre-status is new
Current Status is process
Inserted is the date on which the record is inserted

View Selection History

View the past interaction with applicant as per interaction

Select Candidate

If the employer finds the Candidate suitable, click and select applicant Change the applicant status as selected directly by clicking the green button (

) in which bulb is appearing

Contact Candidate

In case of any clarification or feed back submit the contact form

Add Comment

Add comments in resume, which will be visible only to employer

Rate Applicant

Rate the applicant by clicking the rate button
Applicant Rating page appears
Now rate the applicant for further selection process
After choosing the Rate point from the drop down list, Click the rate button

Delete Applicant

Delete the applicant from – List of Applicants, if he is unsuitable for the job

Resume Match Detail

Check the Applicant Vs Job compatibility
It ranks the applicant using – Location, Industry, Experience, Job Type as Job criteria

View Current Status

View and Change the status of the status of the applicant

View Applicant details by:

All Applicants
Screening Round
Telephone Round
Interview Round
Skill check Round
Background check Round
Reference check Round

Based on interaction with applicant – edit selection round, rate candidate, contact, add comment, delete or Select Candidate

List of Selected applicants

View list of selected cadidatesD
Also send offer letter and create an Excel Report

Send Offer Letter

Send offer letter to selected candidates

Candidate Status

Update whether Candidate has joined or declined the job

Reports

The Applicant Tracking Software generates various Reports that can give a dashboard of applicant status to employers like – Applicant pipeline, Screening Round, Telephone Round, Interview Round, Skill check Round, Background check Round, Reference check Round, Selected, Joined, Declined etc

It also gives Round wise reports like New, In Process, Rejected, Approved and Applicant Round/Status Report, Date wise Applied Applicants

Round Wise Reports

Applicant Round/Status Reports

Date Wise Applied Applicants
Icon meaning:

For new state

Processing State

Completed Status

Final Status completed

Applicant Selected

Applicant Status Reset

Status under process

Status completed but waiting

Status completed (selected)

Status completed but rejected
https://ejobsitesoftware.com/online-applicant-tracking-software/
Comments Off

on Applicant Tracking
View Online Demo:
https://www.ejobsitesoftware.com/jobsite_demo/recruiter_login.php
Login – Active Jobs – View Applications (Right)
Applicant tracking system automates the online job application and resume tracking process, including collecting, reviewing and responding to resumes. It consists of several modules like gathering job requirements, auto-posting to website, qualifying job applicants, processing resumes, short listing & matching candidates, hiring and more.
There are many sub-features available under each of the major modules. Through these modules the entire recruitment process gets streamlined and the recruiter reduces time-to-hire significantly. Since, most of the cumbersome tasks are taken care of by the ATS, recruiters can get the time they need to concentrate on organizing other offline recruitment activities, conducting interviews and hiring employees.
The ATS captures all the candidate details and maintains historical records too so that you can check the background, referrals, requests and resumes whenever you want. It also eliminates information duplication and provides a complete recruitment dashboard for analysis to HR staff.
Recruitment Analysis – Reports generated
Number of open positions
Number of applicants
Number of candidates short-listed
Number of candidate's interviewed
Number of offers made
Number of offers accepted
Number of employees joined
User wise report
The Benefits of using an ATS are that they track the recruitment process right from requirement posting through to offer acceptance and hiring. This eases the workload of HR recruiters and consultants as most cumbersome and time-consuming tasks are automated. From easy-to-use online application forms to easy-to-search resume databases, applicant-tracking system can handle your entire candidate tracking. Many companies with huge recruitment requirements have implemented this system to streamline the recruitment cycle.
Our ATS has multiple modules, customized to meet your needs, and offer several benefits to job seekers, employers & H.R staff.
Contact us for more information or a quote. Find out how affordable our solutions can be!
https://ejobsitesoftware.com/feature-list-ats/
Comments Off

on Applicant Tracking System
Job Board – Applicant Tracking System
Applicant tracking system tracks the recruitment process right from requirement posting
through to candidate screening, selection, sending offer letter and hiring
Check Demo of ATS
Requirement gathering

HR department or the recruiter in your company can create a profile & register in the system Recruiters can then login and post jobs through a simple form The entire process is automated and online
Online job posting

The application automatically posts the job requirements on your website All the details of the job profile along with location, job category, salary, company information etc are made visible for the candidates
Job application

Candidates who visit the website can apply for the job with a single click for the selected job opening Applicants can post resume and apply online
Resume processing

The system formats and stores resumes in the database It gives immediate information on candidate resume, application history and referrals
Resume screening and extraction

Our applicant tracking system can perform advance search and automatically match the resumes with the job requirements and lists the candidates based on their qualifications, experience, location, and skills
Edit applicant round and current status

The employer can change the applicant current status/round to Screening / Telephone / Interview / Skill check / Background check / Reference check The current status can be revised by changing the drop down to: New, In-Process, Rejected, Approved
Continuous candidate tracking

The applicant tracking system tracks the candidate throughout the recruitment lifecycle Starting from pre-screening, telephone round, technical round, reference checks, job offer, offer acceptance, to joining
Automated correspondence

After short-listing, the application sends out emails to the selected candidates to take the communication to the next level The recruiter can manage the formats of this correspondence, offer letter or interview call letters
Reports

Shows a consolidated bar chart and date wise status of Screening / Telephone / Interview / Skill check / Background check / Reference check in various rounds – New, In Process, Rejected & Approved

The ATS enables the hiring managers to manage the recruitment process online They can manage each stage of the process mentioned above and monitor continuously to assess different stages of recruitment